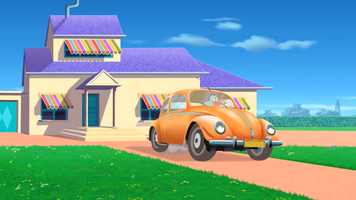 VW Beetle
Oggy owns an orange 1960-70s Volkswagen Beetle that is mostly used in Season 4 but you can see it in some episodes of season 3. The car was originally Bob's. But apparently Bob owns a different car as seen in Grease Monkey Oggy and To Serve and Protect.
Oggy's other cars
Oggy is seen on other vehicles such as a Vespa Scooter in Hit the Road Oggy. and a 60s looking coupe seen in The Hiccup.
Also The 2004 Toyota Hiace Purple with a front end of a Hyundai  Starex which was seen in the episode The Pumpkin that Pretended to be a Ferrari.
Ad blocker interference detected!
Wikia is a free-to-use site that makes money from advertising. We have a modified experience for viewers using ad blockers

Wikia is not accessible if you've made further modifications. Remove the custom ad blocker rule(s) and the page will load as expected.