"This article/section is kinda incomplete..."
This article/section is a stub. Please help this Wiki by expanding it. Thank you!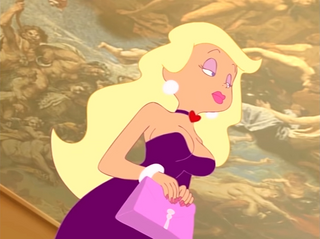 Justine Delarue is a beautiful girl who has blonde hair.
Appearances
Joey met Delarue in V.I.P. Party. She and Joey then dated until she noticed that it was nearly midnight, and she ran away, leaving a glass shoe.
Delarue also appeared in Roommate Wanted!, where she was the second roommate to enter Oggy's house, but ran away because of the cockroaches. She wore a teal dress with a green necklace in a picture of Roommate Wanted!.
Friends
Enemies
Trivia
According to Roommate Wanted!, her name is Justine Delarue.
Ad blocker interference detected!
Wikia is a free-to-use site that makes money from advertising. We have a modified experience for viewers using ad blockers

Wikia is not accessible if you've made further modifications. Remove the custom ad blocker rule(s) and the page will load as expected.